Biography
Approach to Art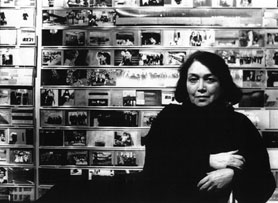 The Istanbul born artist received BFA and MA degrees in the United State of America (University of California, Berkeley) after the graduation from the Robert College in Turkey. After her position as the Assistant Director of Mimar Sinan University Museum of Painting and Sculpture Tomur Atagök started to work as Head of Culture, Press and Public Relations at Yıldız Technical University. She founded and chaired the only Museum Studies Graduate Program in Turkey in 1989. She researched, worked projects and wrote on arts and museums. She realized many one person exhibitions along with national and international exhibitions.
Tomur ATAGÖK has been living and working in Demirciköy, Sarıyer, İstanbul since her retirement in 2006.
While I previously considered space as a matter of relations among forms, I started to think of it as a changing living threesome relationship among artist- art object-perceiver.
The work created by the artist is recreated everytime by the others. Thus the act initiated by the artist reaches to a different artistic phenomenon with each viewer. The work of art, besides reflecting the truth of its creator contains the feelings and thoughts of its perceiver.
The pictorial reality and space on metalic surface containing the hints the artist gets from the environment, the symbols and the descriptions she uses in making references to the outside world, the different realities of the materials and the techniques, the images reflected from the environment and the perceiver on the surface of the metalic work, and finally the interpretation of the perceiver each time create different subjective and materialistic realities of art.
On the other hand while pictorial reality and space, changing physically with the reflections from the environment and the perceiver himself, and joining with the physical environment and movement, advances towards the combination of life with art.